Welcome
Welcome to our school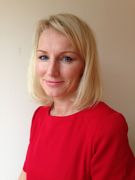 Drapers' Maylands Primary School opened in September 2015 and is unique in many ways. The children in our school feel valued and our school is an inspirational place to be.
Our beautiful, modern premises are designed to be a place where children feel welcome and willing to learn. There is a relentless strive for excellence, high expectations of behaviour for learning and we are rightly proud of our high achievement.
Learning beyond the classroom is important to us and the curriculum is designed to spark natural curiosity,
a sense of self and an understanding of the children's place in the wider world. The Enchanted Wood library offers a magical place for them to develop their love of reading.
Within our beautiful and extensive grounds, there are areas to discover. Children enjoy visiting the wildlife pond, orchard and Science Area- where our chickens roam free. We use the neighbouring Nature Reserve to host our Forest School sessions, where children experience the richness of the natural world whilst developing life-long personal skills.
Visitors to our school always comment on the quiet, purposeful atmosphere and confidence of our children. The school is a happy community and there are many events which we enjoy together, particularly our Firework Extravaganza and The Great Maylands Bake Off!
Ms T Spillane (Principal)
"The school really gives the best, and consequently gets the best out of our children."